When was Harriet Tubman born?
Harriet Tubman was born into slavery therefore no records of her birth were kept and the exact date of her birth is unknown. She believed she was born in 1825. She testified to this date in a pension application in 1890 when she claimed she was 67 and in 1892 when she claimed she was 67 years old. In both instances the year 1825 was consistent. However, she did not know her true age and there was no way to determine the actual year of her birth. To add to the confusion, her death certificate indicates she was born in 1815 and her gravestone in Auburn's Hill Cemetery, 1820.
Harriet Tubman was born Araminta Ross, in Dorchester County, Maryland. She was nicknamed "Minty" by her parents.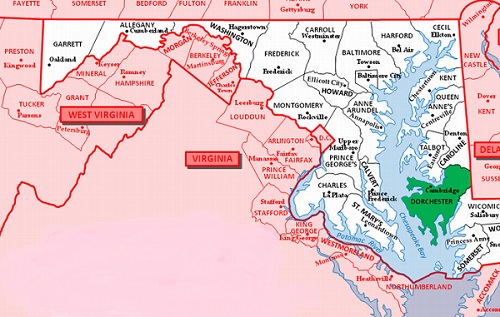 Harriet Tubman was born in Dorchester County, Maryland. Click on map to enlarge.
.
Harriet Tubman's parents and siblings
Harriet Green also known as "Rit" was Minty's mother. She was a cook at the big house. Minty's maternal grandmother came from Africa in a slave ship that conducted the transatlantic slave trade. Her name was Modesty and it is believed that she was an Ashanti from Ghana or Ivory Coast. She was eventually sold to Atthow Pattison. There is no information on the origin of Minty's other grandparents. Atthow Pattison stipulated in his will that Rit and her children be manumitted when they turned 45 years of age. Rit's father was a white man of unknown identity.
Minty's father was Ben Ross, a slave owned by Anthony Thompson. He was a skilled woodsman who oversaw other slaves cut and log timber for the growing shipbuilding industry in Maryland.
Ross and Green met sometime in 1803 after Joseph Brodess' death which temporarily merged Thompson's and Brodess' properties. In 24 years the couple had nine children: Linah (1808), Mariah Ritty (1811), Soph (1813), Robert (1816), Araminta "Minty" (Harriet), Ben (1823), Rachel (1825), Henry (1830), and Моses (1832). Minty was the fifth one born. She had four sisters and four brothers.
Ben Ross was manumitted at age 45 but continued to work for Thompson as a free man and supplemented his income by hiring out his labor.
The masters
Harriet "Rit", Minty's mother, was owned by Joseph and Mary Pattison Brodess. Mary Pattison inherited Rit from her father Atthow Pattison. When Joseph Brodess died in 1803, Mary was left in charge of Bucktown Farm and their toddler son, Edward.
Minty's father, Ben Ross, was the property of Anthony Thompson who owned the Madison Plantation. Thompson was a widow who had three sons.
Mary Brodess and Anthony Thompson married. Thompson managed Mary's property including her slaves. Mary Brodess died a few years later in 1809 and left her property, which included 200 acres of land and a number of slaves, to her son Edward who was only 8 years old at the time.
In 1822 when Edward was 21 years old, he got married and took over Bucktown, he brought the slaves he had inherited from his mother including Rit and her children, separating them from their father.
The Brodess plantation was small compared to others in the area. Slaves were so much more important to them as their income was closely tied to them. By 1825 his farm was struggling financially and started selling slaves; the first ones to go were Minty's older sisters Miriah and then Linah and Soph.
Harriet Tubman's Childhood
Tubman's childhood was cut short when she was hired out at age 5 to take care of an infant. This was her first job, of many to come, away from her mother. Minty was far too young to assume such a responsibility in addition to household work. She recalled being on duty at nights to make sure the baby did not cry, she had to continuously rock the baby's cradle or hold her in her arms. Every time a cry was heard her mistress, Miss Susan, would whip her around the neck. These were her first scars and they remained for the rest of her life. Minty was weak and malnourished so she was sent home.
At the plantation her mother would nurse her back to health and she would be hired to other households again and again. According to her recollections, she was always homesick. When Tubman was about seven years old she was hired out to collect muskrats from traps. The job required being constantly wet from the waist down. She had contracted measles and gone to work; as a result she was extremely weak and collapsed.
When she was about eight she was hired to another household, one day while her masters were having an argument, she took a lump of sugar which she had never tasted. Her mistress found out and afraid of the punishment she ran away. For three days he found shelter in a pigpen where she had to compete with pigs for scrapes of food.
Later in her life she described this period of her life a being severely neglected.
A blow in the head
By age 12 Minty was considered strong enough to work in the fields. She was hired by a man named Barrett. Tubman preferred the harsh physical work in the plantation rather than doing domestic work and being subjected to a white woman. At this time during the beginning of her adolescent years, Minty's Christian faith started to intensify.
One day when Tubman was in the grocery store she spotted a fugitive slave. His overseer was about to confront him as he tried to escape the store. Minty stood in the doorway blocking the overseer's way as to give the slave enough time to escape. The overseer had just picked up a heavy metal weight from the counter and aimed it at the slave but instead hit Minty in the head. Years later she remembered the episode:
"The weight broke my skull and cut a piece of that shawl clean off and drove it into my head. They carried me to the house all bleeding and fainting. I had no bed, no place to lie down on at all, and they laid me on the seat of the loom, and I stayed there all day and the next".
It took months for Minty to recover from the head injury. Brodess tried to sell her but was unable to find a buyer. After this injury Tubman would fall asleep anywhere and it was impossible to wake her up. Her sleeping spells would come to her without warning. She also started having vivid dreams related to her religiosity.  She would never fully recover from this injury. In her later life she would have surgery to alleviate the symptoms.
Category: Biography