The Harriet Tubman Residence, Harriet Tubman Home for the Elderly and the AME Zion Church are National Historic Landmarks.
In 1858 New York Senator William Seaward made Harriet Tubman a proposition. He would sell her his property in Auburn, NY for a reasonable price and flexible terms. Auburn had a strong abolitionist group and Seaward was a well known supporter of the Underground Railroad who Harriet could depend on for funds and shelter for her people. Before the Civil War about 500 slaves passed through Auburn on their way north. Tubman knew Senator Seaward well as she had used his house as a station many times. She was encouraged to move to Auburn by a long time friend and supporter, Lucretia Mott.
Tubman had been living in North Street in St. Catharines, Ontario, Canada West since 1851; that was her home and her base of operation. She had brought her parents and her entire family to St. Catharines where they lived safe from slave catchers. But Tubman could not resist the offer and in 1858 Tubman and Senator Seaward sealed the deal for $1,200.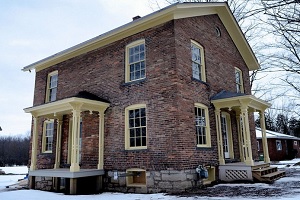 Harriet Tubman Residence after the fire. Wooden structure was changed by brick.
She brought her parents from St. Catharines to live with her in Auburn, NY. Her parents were manumitted and old so they did not run the risk of being returned. In fact,Tubman's mother who spent the winter of 1857 and 1858 in Canada was happy to move, she found Canadian winters unbearable. The property was located at 180 South Street. When Tubman left for the Civil War her parents, who were old and fragile, stayed in Auburn and were looked after by friends.
In 1886 her house was destroyed by fire, none were hurt. Nelson Davis, Tubman's second husband, was a brick maker and helped rebuild her house. He replaced the original wood structure with brick, making it stronger and longer lasting.
In order to fulfill her dream to build a home for the elderly Tubman purchased additional land. In 1896 Tubman bought at auction 25 acres of land adjacent to her property located at 182 South Street. The land was sold for $1,450. The AME Zion Church raised funds and with the support of a local bank providing a mortgage Tubman was able to complete the transaction.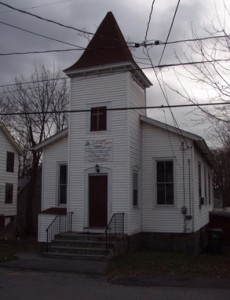 AME Zion Church ran the Harriet Tubman Home for the Elderly
In 1903 as she was unable to make tax payments on the property, she donated it to the AME Zion Church with the condition that the church would continue to operate the home, that way her dream would outlive her. It took 5 years to fully staff and equip the home and on June 23, 1908 the Harriet Tubman Home for the Elderly was inaugurated. Tubman continued to live in her residence until her health deteriorated and could not take care of herself. She moved next door where she was cared for until the day she died in 1913.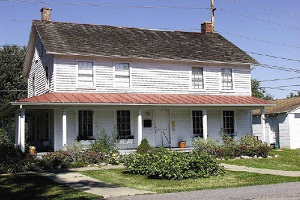 Harriet Tubman Home for the Elderly
Visit the Harriet Tubman Home Website for visiting hours.
Category: Legacy